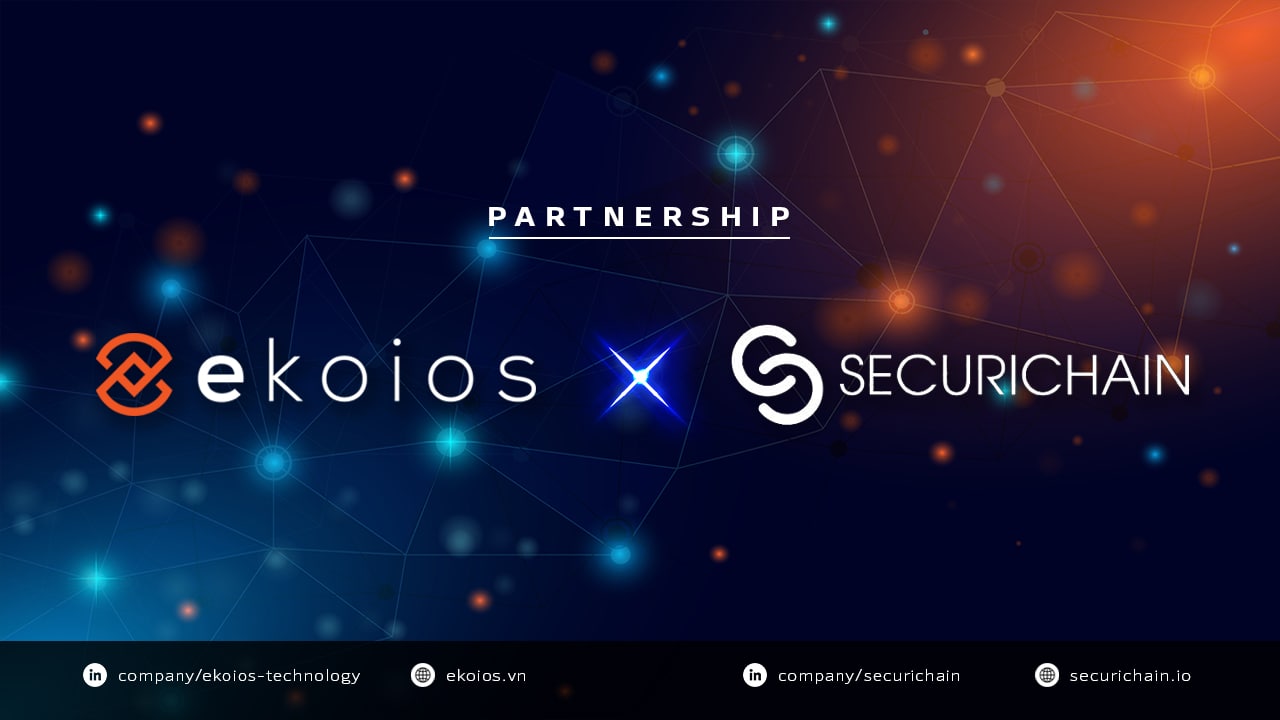 Hanoi, April 20th, 2022, Ekoios Technology – Vietnam's leading blockchain company in Vietnam and Securichain – the rising blockchain audit service provider signed the Basic Agreement on Business Alliance. The partnership aims to address the rising demand for cybersecurity enhancement for Ekoios's products & services delivered to its entire global client base of more than 200 blockchain projects and businesses.
According to the agreement, SecuriChain will provide Ekoios with services including audits of smart contracts on major protocols, vulnerability scans of wallets and dApps, penetration testing, and 24/7 managed services for blockchain businesses.
"At Ekoios Technology, maintaining the highest standard of security for our products & services is our top priority. This is why this new partnership with Securichain is critical to increasing the reliability and credibility of our offerings and helping us win over more customers, including the ones with the most rigorous requirements for security". Mr. Dong Do — CEO & Co-founder of Ekoios Technology.
On the same note, Mr. Duc Nguyen, CEO of Securichain, added: "Due to fast-paced development, many blockchain projects have disregarded software development's fundamental safety and security standards. Via partnership with Ekoios Technology, we aim at establishing a high standard in cybersecurity for as many blockchain projects as possible."
Cybersecurity in the blockchain world is emerging as a critical issue since the world noticed multiple severe cyberattacks against blockchain projects in recent years. By the end of 2021, six of the ten most notorious cyberattacks caused over 1.4 million USD in damage. Furthermore, four of the eight notable assaults against blockchain projects reported in December 2021 stemmed from vulnerabilities in smart contracts. These real-world case studies demonstrate the critical need to pay extra attention to information security for blockchain initiatives.
About Ekoios
Founded in August 2015, Ekoios Technology has been Vietnam's leading blockchain service development company, with a proven track record of more than 200 successful projects delivered for clients globally, ranging from startups to Fortune 500 companies. Ekoios's rock-solid experience, in-depth knowledge of blockchain, and dedicated support can enable businesses of any size to launch their blockchain-based projects in a much shorter time and with much fewer resources. From evaluation, and consulting, to execution and maintenance, Ekoios's solutions and services always stay up to date with market trends and ensure the utmost performance, security, and customer satisfaction. In 2021, Ekoios was proudly recognized as a Clutch Leader in Blockchain Software Development in Vietnam.
About SecuriChain
SecuriChain has a team of Security Researchers, Pentesters, Incident Responders, and Auditors, who are highly experienced in the cybersecurity industry in SEA. SecuriChain has successfully detected several security vulnerabilities and participated in clearing up the consequences for prominent vendors such as Microsoft, Apple, Adobe, Paypal, McAfee, Sony, and Checkpoint. Backed by Icetea Labs and CyRadar, SecuriChain's primary objective is to establish itself as a trusted blockchain partner in the cybersecurity industry by supporting vendors in correcting security vulnerabilities.